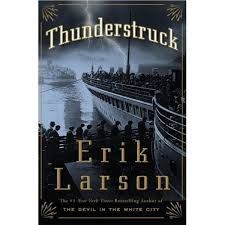 The greatest gig-perk I ever had was a bunch of years ago, when I performed at a co-sponsored Random House/Globe and Mail literary event at Hugh's Room. It was produced by Rheostatic and Bidiniband songwriter, author, and founder of current Toronto newspaper the West End Phoenix Dave Bidini, whose wikipedia page references "Bidini's annual 'Torn From the Pages' literary event, which gathers musicians and writers to create original works based on a single work of fiction, including Linden MacIntyre's Why Men Lie and Michael Crummey's Galore." I've done two of them now, the most recent for Nino Ricci's novel Sleep in 2015, and three years before that, for Linden Macintyre's Why Men Lie––which brings me back to my greatest-ever gig-perk:
The pay, for each of us commissioned back in 2012 to write something inspired by Linden Macintyre's novel, was minimal––a $100 honorarium, plus dinner and drinks––but the other, mind-blowingly exciting recompense was, get this: $700 worth of books––any books, of our choosing, then available from Random House Canada's website! Are you kidding me? $700 worth of brand new books?? Which I get to choose at my leisure?? Whaaat? I was like a little kid: I looked at every possibility; I made lists of what I might pick. I took my time, savoured my selection––which in the end comprised about 40 spanking-new books, which were eventually delivered to my house, in three separate boxes, over two days––oh man, it was like Scholastic Book Fridays times a thousand! Opening those deliveries and unpacking my way through those boxes of crisp, beautiful, fresh-ink-smelling editions was the most ecstatic reward, so far, of my life in 
And two of the books in that magical delivery were by Erik Larson.
One was Lethal Passage: The Story of a Gun, Larson's 1994 contribution to the gun-control debate, which I began back then but still haven't finished, and the other one, which I finally read last fall, was Thunderstruck. 
Thunderstruck is the story of two men: Hawley Crippen, the unlikely British murderer whose strange, lurid (and touching) story, and subsequent pursuit and capture ignited the imagination of the world (as well as inspiring Alfred Hitchcock to make Rear Window) and Guglielmo Marconi, the obsessive Italian creator of the wireless. Thunderstruck tells the story of how, despite having never met, neither Crippen nor Marconi would be world-renowned today without the other, and Larson twines these true stories with a novelistic narrative which pulls us headlong into their parallel tales. So good.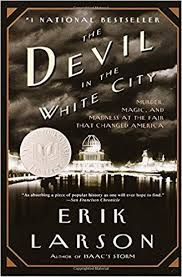 The only other Erik Larson I've read is The Devil in the White City: Murder, Magic, and Madness at the Fair that Changed America––similar to Thunderstruck in that it braids the macabre story of H.H. Holmes, one of America's first serial killers, with that of Daniel H. Burnham, the architect in charge of the lavishly ambitious 1893 Chicago World's Fair. Again, historical-fiction told in un-put-downable, novelist style. I'd recommend both Thunderstruck and/or The Devil in the White City to anyone. Side fact: the movie rights to Devil were purchased by Leonardo de Caprio in 2010, with Scorcese apparently signed on to direct.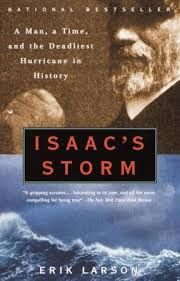 Since before the time I knew of either of these books, I've been meaning to read Isacc's Storm (still on my list, dammit), Larson's account of the hurricane which devastated Galveston, Texas, in 1900, killing over 6,000 people. "Isaac" is Isaac Cline, the meteorologist who had all the information, but lacked the modern-day understanding of science necessary to grasp the magnitude of what was coming. Again, Larson interweaves the story of the hurricane itself with the story of the man. Yet another unread book, like Larson's In the Garden of Beasts, which I purchased many years ago in some airport or other, that I have to look forward to. 
Dave Bidini still curates a "Torn from the Pages" event each year, but the $700-worth-of-books is no longer on the table. When I performed at the Nino Ricci night in 2015, the reward (aside from the nominal paycheque) was a new song (in my case, "Sleep"), as well as kibitzing with other interesting artists, and getting to hang out two days in a row with Nino, whose company was a joy. But I'll tell you something: if I ever again get my hands on $700 I can spare, you can bet I'm ordering another three boxes of books to have delivered to my door. Best, and most Scholastic-ecstatic gig-perk, ever.