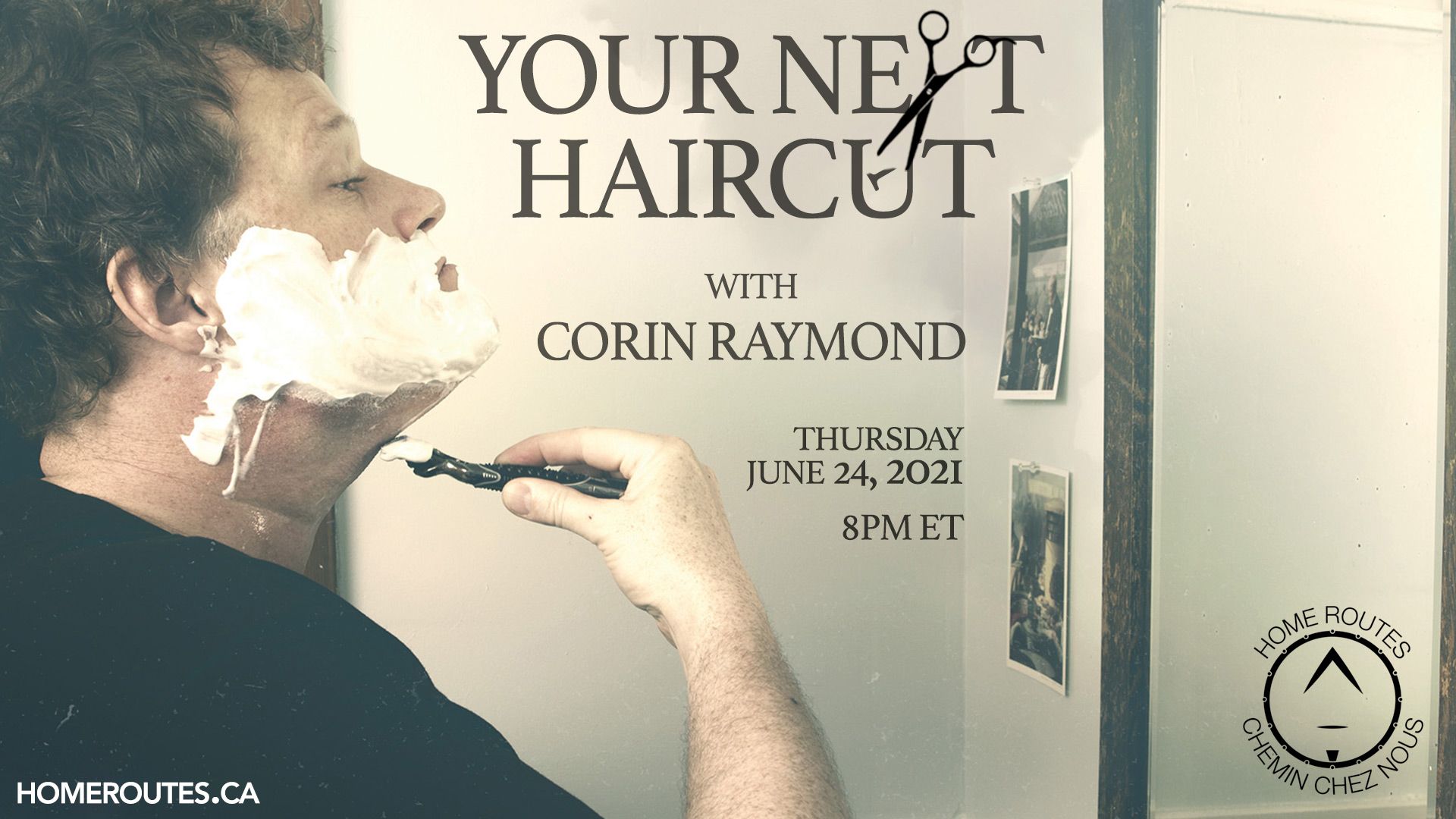 Friends out there in the front row, 
Sliding scale tickets to my Thursday, June 24th performance are to be found right here; just hover your cursor over this sentence or on the picture above.
The front row of the third and last of this 3-show series is as magic as ever: everyone gets to be there.
My last "Haircut" (presented by Home Routes back on May 13th), 234 folks bought front-row tickets; and lots of those ticket-buyers brought their partners, their sweethearts, their kids –– in the end, there were about 400 beautiful beating hearts, all in the FRONT ROW –– all together, hailing friends and chatting and communing and snacking on the sweetness of the crowd as much as on the show itself.
I'm telling you, magic has attended these "Haircuts" both times. 
But before I get you any more EXCITED about this third and last "Haircut" (my final online appearance until the fall), I need to acknowledge something that I don't express enough: half of what makes my shows so special is that I have such a good crowd.
I'm miraculously fortunate this way. My audience is just made of good people. I don't say this to flatter; I say it because you're the caramel secret in the Cadbury's Caramilk bar of what I do –– you're the magic-front-row ingredient that makes my whole enterprise feel so right –– and when you all get together, well, that's the non-technical, intangible other thing –– that's the confluence of hearts at the heart of my long sought-after Caramilk secret.
My first show (back on April 1st), we had 214 ticket buyers! Our goal for the May 13th show was 215, and we hit 233! 
My dream is to end this 3-show season on 234! –– is that so wrong? Friends, is it WRONG TO DREAM?
I, for one, believe in us. I know we can; and there's joy in numbers.
But hey, before I leave you to purchase your tickets and to sweetly ponder the faces of far-flung friends or faraway family (or friends you haven't had the chance to do something utterly joyful with in a while) whom you might be inspired to suggest join you in my magical front row, let me tell you what you can expect from me on Thursday, June 24th:
1. As with my each of these three shows, this one will feature 80% different material than the others did.
2. I'll be debuting at least two totally brand-new songs: "Just For the Record" and "Wasn't Done Falling in Love." (I'm hoping to finish a third new song called "Listenin'" between now and the 24th.)
3. I'll be fulfilling several requests that I was unable to satisfy for the last show or the one before that: "Blue Mermaid Dress" or "The Law and the Lonesome," anyone? –– to name a couple. I'm even gonna break down one of the verses of "The Law and the Lonesome" and tell you the origin of each line. (For those of you who are into that kinda thing.)
4. I'm excited to share two new Bookworm monologues from the show I'm currently working on, which I'll be debuting in its entirety with Home Routes in the fall (more on that 3-show series soon enough).
5. Along with the requests and songs from earlier records, I'll be revisiting new material such as "The First Hundred Years Are the Hardest," "Sorry Love (For This Sorry Love of Mine)" and "We Are So Lightly Here."
6. I will make you belly laugh.
7. Furthermore, I promise you at least one good cry –– in other words, feelings of sweet sorrowful human joy and relief.
I dare you to bring someone who's never heard of me. 
I dare you to bring someone who has.
I dare you to bring someone you love.
Share the magic front row! 
I dare you to purchase your ticket without further internal dialogue, as I'll feel the effect of that inspiration immediately, and it will be channelled directly into the work I'm doing to prepare for this mystical event!
Again, sliding scale tickets are HERE (hover your cursor), my Patreon is THERE (hover), 
And I remain, 
Promotionally yours,
Corin Raymond 
ps. Bahoozbahhh!